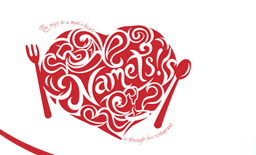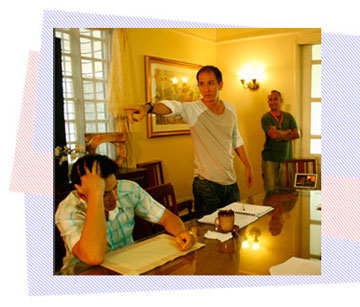 DIRECTOR
Jay Abello is an industry disciple who finds passion within the frame of artistry.  He has made of himself a dedicated filmmaker and cinematographer from his varied production experiences; he worked under five different directors (Erik Matti, Yam Laranas, Peque Gallaga, Laurice Guillen and Mark Meily) in a total of ten feature films where he paid his dues from being property master to co-writer and to assistant director (Sa Huling Paghihintay, Viva Films, 2001 and Dos Ekis, Viva Films, 2001).

In 2002, he moved to television as floor director to three highly rated TV series (Ang Iibigin Ay Ikaw, Te Amo, and Mulawin) under GMA-7 Network. 

Abello values his light and composition. He took photography lessons via a correspondence course at the New York Institute of Photography in 1997 and has become an avid hobbyist since.  In 2004, he started apprenticing under acclaimed cinematographer Lee Meily in television commercials and one feature film.  Two years later, he immersed himself in an educational trip, beginning with the Digital Photography workshop at The Newberry Library in Chicago followed by Feature Film Lighting workshop at Rockport College in Maine and the Kodak 16mm Cinematography Workshops. Since then, he has worked as a cinematographer for Mark Meily (Camera Café), Joanna Vasquez Arong (Amihan, the Philippines' entry to the International Documentary Challenge), and for the Zaragoza Expo 2008.

In 2007, Abello directed his first feature film, Ligaw Liham, which he also co-wrote and produced. The film was one of the finalists at the 2007 Cinemalaya Independent Film Festival. This year, he has two entries at the festival: he is director and producer of Namets! and director of photography of Tara Illenberger's Brutus.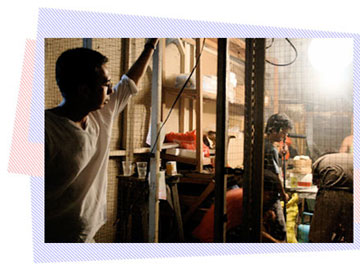 Currently, he is working as the director of photography in Coreen Jimenez's feature length documentary entitled Kano: An American and His Women under Arkeo Films and NCCA.
SCREENWRITER
Vicente Garcia Groyon holds a Master of Fine Arts degree in Creative Writing from De La Salle University, where he currently teaches. His first novel, The Sky Over Dimas (DLSU Press, 2002), received the Grand Prize for the Novel from the 2002 Don Carlos Palanca Memorial Awards for Literature and the 2004 National Book Award. His short stories, some of them Don Carlos Palanca Memorial Awards for Literature prize-winners, are collected in the book On Cursed Ground and Other Stories (UP Press, 2004). He received fellowships from the writing workshops at the University of the Philippines, and the National Writers' Workshop in Dumaguete City. His short films have received awards from the Gawad CCP para sa Alternatibong Video at Pelikula and the Film Academy of the Philippines. He recently edited the short fiction anthology A Different Voice: Fiction by Young Filipino Writers (UST Press, 2007) and the flash fiction anthologies Very Short Stories for Harried Readers and Mga Kuwentong Paspasan (Milflores Publishing, 2007).
Phentermine Generic Online
5-5
stars based on
455
reviews
Phentermine is a stimulant similar to an amphetamine. It acts as an appetite suppressant by affecting the central nervous system. Phentermine is used together with diet and exercise to treat obesity (overweight) in people with risk factors such as high blood pressure, high cholesterol, or diabetes.
Phentermine hcl online It has been said that for many days, the body is in an "active and alert state" this can lead to a huge increase in the performance. Many athletes are in a constant state of near-sleep and many others are in a state of sleep deprivation or sleepiness. The active and alert state should be maintained during all training sessions, and sleep deprivation should be avoided. Phentermine hcl is ideal for athletes and bodybuilders who want to optimize their natural performance, and avoid the dangerous side-effects of caffeine. It is also considered a safe and effective substance for athletes taking performance-enhancing medications or other that affect the nervous system. Phentermine hcl has many useful effects and side effects, so much that you will have to learn how use it its fullest potential. Phentermine HCL Product Information : Phentermine Hcl is a brand name of medication used to treat anorexia associated with narcolepsy. It is sold generally as a liquid or pill preparation. One capsule contains approximately 10 mg and does not contain any stimulants. It is not a stimulant medica